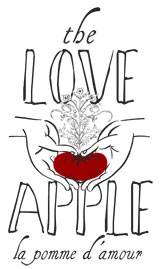 The Love Apple– The Love Apple is a small thirteen table restaurant. Our food is nonlinear, inspired by northern New Mexican farmers' fare and slow summer sunsets. We live in an old chapel replete with thick adobe walls and a crooked steeple. Our food is farm to table northern New Mexican. Our service is casual fine dining.


Mailing Address– Our mailing address is:
P.O. Box 691
El Prado, NM 87529


Our Hours of Operation– We serve Dinner Wedneaday through Sunday from 5:00PM until close.


Directions– Our address is: 803 Paseo Del Pueblo Norte, Taos, NM. We are found one mile north of the Taos Plaza, on the right side of the road, between Laughing Horse & Lotta Burger North.


Reservations– We accept walk-ins, but strongly suggest reservations, we take reservations up to two weeks in advance. Please call 575.751.0050 to speak with a hostess. We cannot always answer the phone during service so please call with advance notice.


Payment– We accept Cash and Check only. There is an ATM located at Centinel Bank, four blocks south of the Love Apple.


Special Events– We offer a limited number of buyouts and or large party events per year; our event spaces are fully booked for the year 2022.


Large Parties– We offer reservations for up to 10 people.




RESERVATIONS
575.751.0050